A city lawyer has busted a secret plot in which a Uganda People's Defence Forces soldier Lt. Col. David Kabareebe connived with a city lawyer David Mushabe to steal Shs22,044,807,040 from the government. In his detailed two-page letter to President Yoweri Museveni dated June 10, 2020, lawyer Geoffrey Nangumya of Nangumya and company Advocates narrated how Lt. Col. Kabareebe even tried to circumvent on-going court cases concerning victims of Mpokya forest in an attempt to quickly access the money.
The lawyer says Lt. Col. Kabareebe wrote a skewed letter to President Museveni asking him to direct that payment be made through the law firm of Mushabe Munungu yet he was aware of pending cases in court.
"Our attention has been drawn to the letter circulating on social media dated the 25 day of May 2020 authored by Lt. Col. Kabareebe related to the above matter. Your Excellency, we have studied the contents of that letter and it is very unfortunate that Lt. Col. Kabareebe has intentionally suppressed and omitted relevant facts with a view to mislead you," Nangumya stated.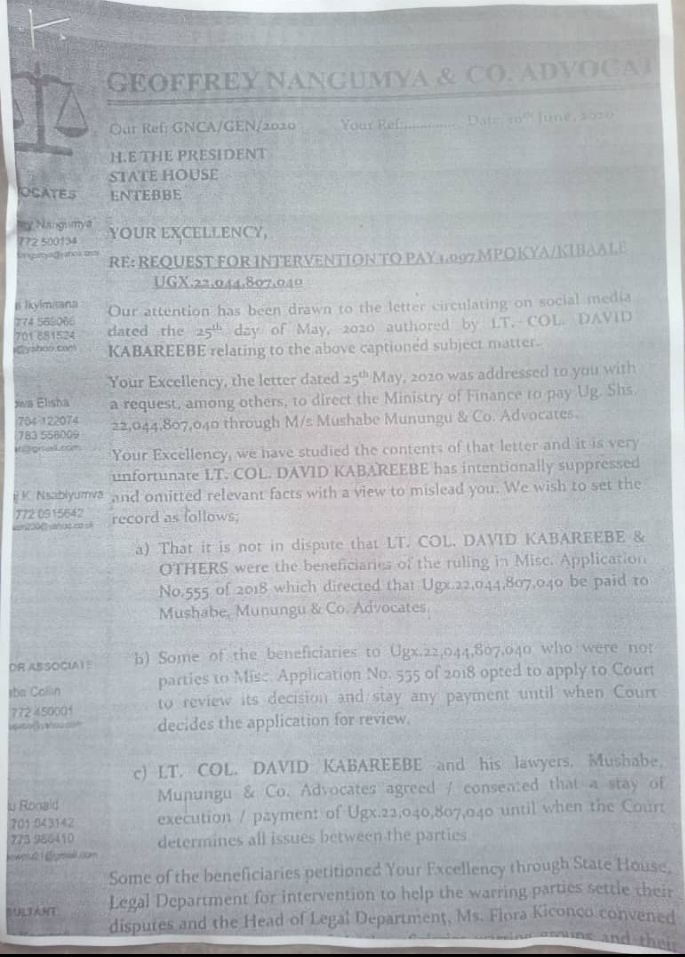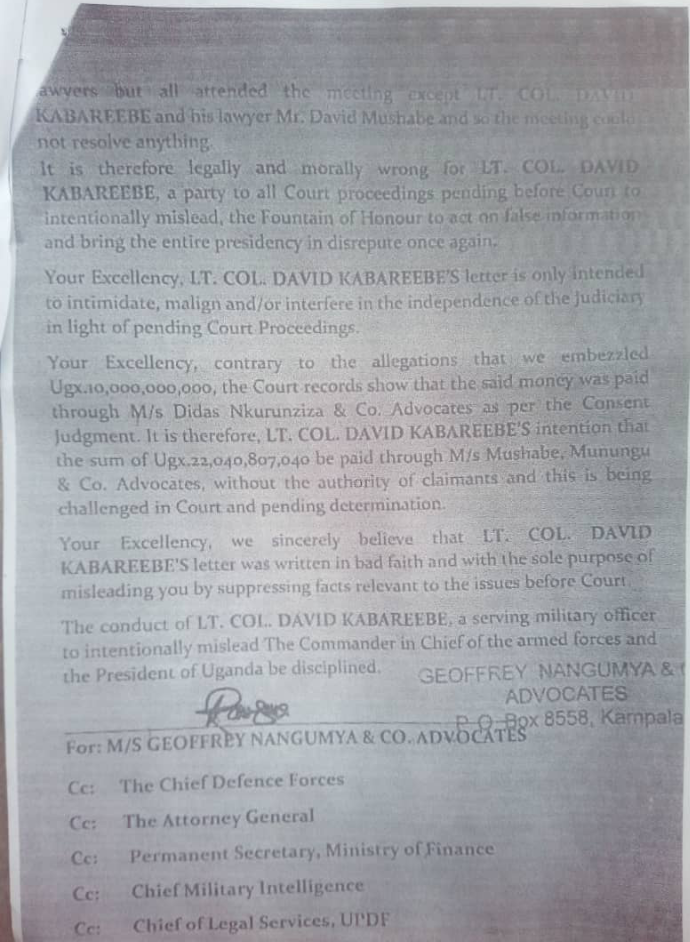 The letter sent to President M7
Stated that though Lt. Col. Kabareebe is one of the beneficiaries of the Mpokya/Kibaale compensation of Dhs22bn, there are fellow beneficiaries who had been left out of the court judgment that awarded the said sum. Those co-beneficiaries went to court through their lawyers of Nangumya and Co. Advocate and Bashasha and Co. Advocates and indeed Lt. Col. Kabareebe together with their lawyers of Mushabe consented the payment should be stayed pending determination of all cases in respect of this compensation. He further states they were even invited for a meeting by the State House Legal Department but Lt. Col. Kabareebe didn't attend. Instead, he took to maligning him and the law firm of Bashasha that they had embezzled Shs10bn from the said compensation.
"Your Excellency, contrary to the allegations that we embezzled Shs10bn, the Court records show that the said money was paid through M/s Didas Nkurunziza & Co. Advocates as per the Consent Judgment. It is therefore legally and morally wrong for Lt. Col. Kabareebe, a party to all court proceedings pending before court to intentionally mislead the Fountain of Honour to act on false information and bring the entire presidency in disrepute once again," he stated.

Nangumya reasoned that Kabareebe's letter is only intended to intimidate, malign and interfere in the independence of the Judiciary in light of pending court proceedings. He says Lt. Col. Kabareebe's intention is to make sure that Shs22bn is paid through Mushabe, Munungu and Co. Advocates without the knowledge of other claimants.
"We sincerely believe that Lt. Col. Kabareebe's letter was written in bad faith and with a sole purpose of misleading you by suppressing facts relevant to the issues before court. Further, the conduct of Lt. Col. Kabareebe, a serving military officer to intentionally mislead The Commander in Chief of the armed forces, is a form of indiscipline for which he should be disciplined," the letter reads.
The letter comes after Lt. Col. Kabareebe circulated on social media his letter to the president just a few days when court was slated to deliver a ruling in respect of this case. To his dismay, the ruling which was supposed to be delivered last week, was adjourned for another full month.
Efforts to talk to the accused persons for their side of the story were futile as their contacts were not going through.