By our reporter
Lira: A local social media fanatic from Lira district has been arrested over alleged cyber harassment.
Phillips Ogile, aka Jakayo, a former local radio presenter in Lira town also the Oyam district NRM publicity was picked by the police detectives from the CID headquarters in Kampala on Thursday from Lira town.

This website has learnt that Ogile is accused of authoring and circulating hate speech using his social media accounts including facebook and WhatsApp mediums.
Sources within security revealed that Ogile has directly been attacking senior leaders from Lango including the defense state Minister Rtd Col Charles Okello Engola Macodwogo, Kampala Minister Betty Amongi, Lira Municipality Mp Jimmy Akena Obote and former Northern Uganda Minister Rebecca Amuge Otengo.
It was upon this background which police picked interest on manners and alleged blackmail and established a GEF 97/2020 at the CID headquarters, Kibuli.

He has also lately been using his same facebook account to allegedy attack the personality of Wonyaci Yosam Odur, the Lango Paramount Chief in favor of Dr Eng Micheal Odongo Okune who has been pushing to replace Odur.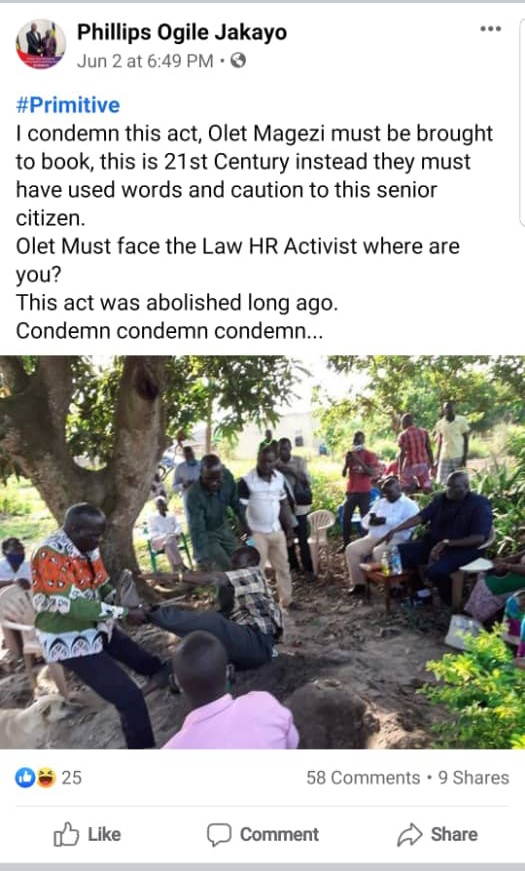 Another source revealed that, security and other intelligence units including ISO became concerned about Ogile's recent posts against the person of the President and other top leaders of the NRM party soon after he announced his support for Tumukunde.
Early this year, Ogile narrowly survived arrest together with the former Security Ministry Gender Henry Tumukunde from his home at Kololo in Kampala.
He has also recently announced how he had abandoned NRM party for Tumukunde claiming many supporters have been neglected by the party.
Some years ago, Ogile was arrested and jailed at Lira Central Government Prison for allegedly battering his wife over the back of a chicken.