Rtd. Bush War Col. Steven Basaliza alias Omudumizi, has blasted and laughed at time wasters criticizing and questioning about president Museveni's academic credentials.
In his remarks with our reporter earlier today, the retired National Resistance Army (NRA) / Uganda People's Defence Forces (UPDF) bush war Colonel who is a contestant for one of the five seats for the elderly that were recently created by Parliament has identified Museveni as a born-again Christian and once a student leader from Ntare High School to Dar-es-Salaam University in Tanzania where he studied Economics and Political Science.
"My son, let me tell you this, Museveni was born a leader. We were in Uganda but used to hear the name Museveni there at Dar-es-Salaam university, he formed a strong University Students' African Revolutionary Front activist group and led a student delegation to FRELIMO territory in Mozambique, then under Portuguese rule. At that time, Museveni was an admirer of international revolutionary Che Guevera. Although he was still young, he saw it right to receive military training in guerrilla war fare.  It was several years later when he applied his skills that his age-mates at the time realized how forward looking the young man was. His contemporaries at the time included Eriya Kategaya and Ruhakana Rugunda. After University in 1970 at the age of 26, Museveni joined the intelligence service of Ex President Dr. Apollo Milton Obote. In his own account, Museveni said that he did not join the government because he liked Obote, but because, he wanted to see how government is ran.

When Idi Amin seized power in a January 1971 military coup, Museveni fled back to Tanzania. While in Tanzania, we learnt that he had started organizing clandestine groups to try and overthrow the government of Idi Amin, these operated out of Mbale, Gulu, Kampala and Mbarara. In 1972, he took part in an attack-that went so horribly wrong against Idi Amin.
In 1973, more of his comrades were killed by Idi Amin soldiers in different engagements, prominent among these were Mwesigwa Black, Martin Mwesigwa, and Valerian Rwaheru. However, this did not deter his resolve.
How I Met Museveni

By October 1978, when Amin ordered the invasion of Tanzania. Museveni had already trained a significant number of fighters in his Front for National Salvation (FRONASA) outfit. The Uganda National Liberation Front (UNLF), joined forces with the Tanzanian army to launch a counter-attack which culminated in the toppling of the Amin regime in April 1979.
I was then a teacher at Ntanga Secondary School in Fortportal where Yoweri Museveni was leading Western Axis (Mbarara-Fortportal). We already had a strong background of him as a graduate of Political Science from Dar-El-Salam University in Tanzania. By the way, these facts were further articulated by the late Katabarwa, the political Commissar then and Mzeei Raphael Bitamazire then who was the chairman Uganda National Liberation Front (UNLF) in Tooro Region." Hon Basaliza explains.
It is that courage and brilliance that encouraged us to join and support FRONASA led by Yoweri Museveni and over threw Amin's harsh rule that time, Political Parties were re-introduced in the 1980 elections.
Elections held that year were however rigged in favour of Dr Milton Obote of Uganda Peoples Congress.
The election was rigged. Not satisfied with the state of affairs, Museveni together with his supporters, formed a rebel group called the Popular Resistance Army (PRA), which later became the NRA and planned a rebellion against the second Obote regime, popularly known as "Obote II", and its armed forces, the Uganda National Liberation Army (UNLA).
Some intellectuals followed him into the Uganda Patriotic Movement (UPM) and it is the same group that followed him into the bush war under National Resisitance Army (NRA).
The insurgency began with an attack on an army installation in the central Mubende district on 6 February 1981.
Asked whether he was part of the liberation struggle, Hon. Basaliza, a Museveni diehard had neatly kept his UPM Card. He explains that it's one of the important and critical things he can't just throw away because it positively changed his life and Uganda as a country.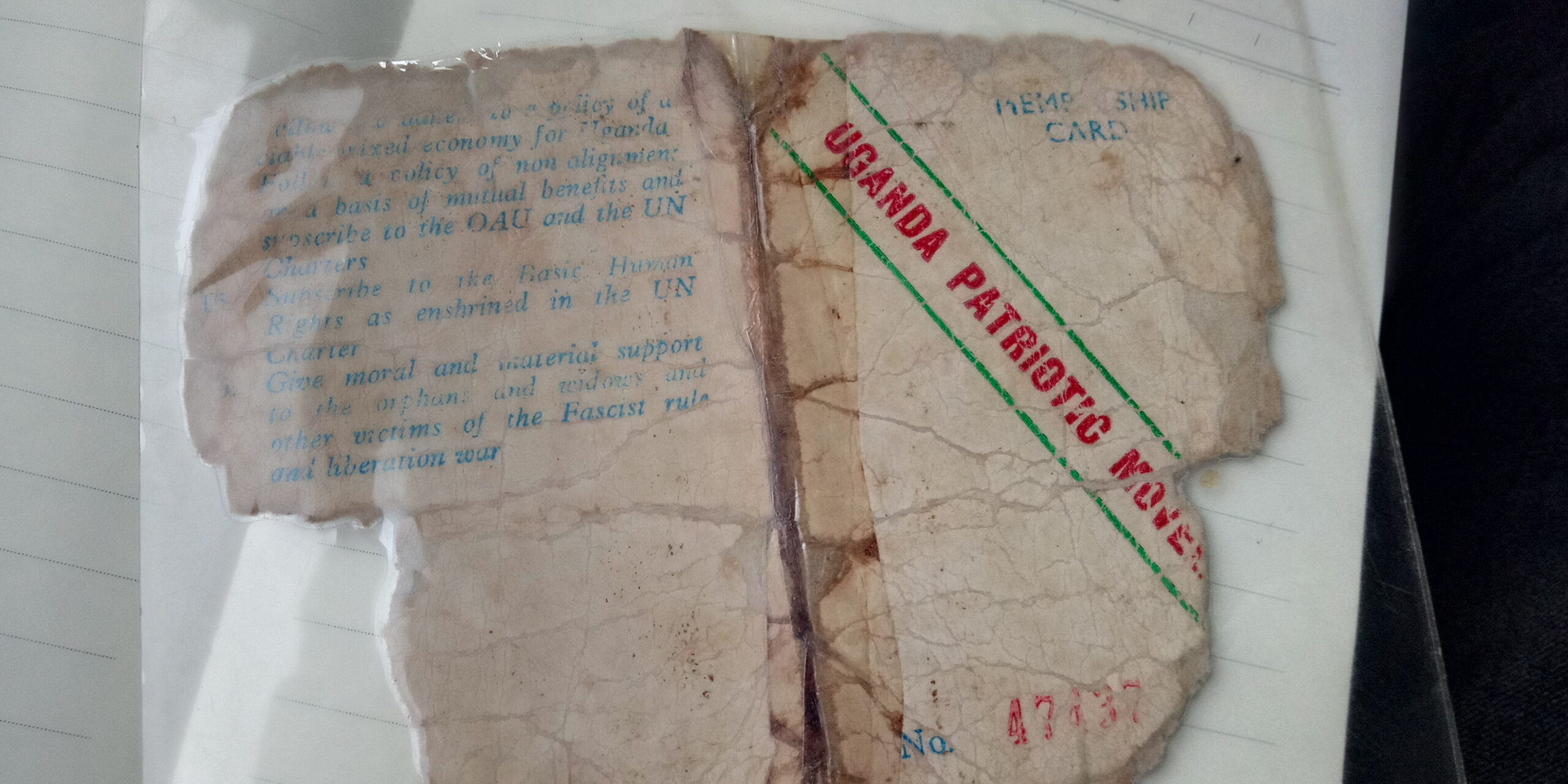 More Facts About Museveni's Academic Credentials
Hon. Basaliza continues to explain..
"I've personally been in Dar-es-Salaam University many times and we would be told stories about Museveni that he was a student there and for your information, I was happy to visit his hall and Room 7 where he resided from and they are upto date very proud of him.
Later, I got inspired to take my daughter to Dar-es-Salaam school of Law at Dar-es-Salaam Universitity in 2013.
During that time, I learnt that Mr. Museveni was invited as an Almunai in 2011 when his University was celebrating 50 yrs. He attended and interacted with Ugandan Students then at the University.
The Bush War veteran further explained that when Uganda settled, President Museveni went back to School and in 1994, Museveni was awarded a doctorate of Laws from Humphrey School of Public Affairs in United States. He added that in 2003, Museveni was also awarded a doctorate of Laws from Mbarara University of Science and Technology (MUST).
In 2007, Museveni was awarded a doctorate of divinity from Latin University of Theology in United States.
He added that in 2010, he was awarded a Honorary Degree from Fatih University, in the same year, he was a warded a Doctorate of Laws from Makerere University and Just recently in 2015, Museveni was awarded a doctorate of Literature from his former University Dar-es-Salaam in Tanzania .
Those who are doubting President Museveni's academic credentials are just time wasters. He explained in a brief interview..
Who is Col. Stephen Basaliza?
Armed with a lot of experience and ready to represent the elderly people from western Uganda, Basaliza, a former Commissioner of the Uganda Human Rights Commission (UHRC), served in the Uganda Peoples' Defence Forces as Director of Human Rights (2007 -2010) and in the Ministry of Defence (1997 – 2001) after which he joined Parliament as MP for Burahya (2001 – 2006), after which he went on to pursue private business.
Basaliza was among the first contingent AMISOM Troops to be deployed to Somalia in 2007, under the Command of Gen. Levi Karuhanha, (RIP). With that field experience, he understands what the elderly are going through, among them being veterans.
After his tour of duty in Somalia he returned to Uganda and was appointed Chief of Pensions, Gratuity and Survivor Benefits in the UPDF where he served with Diligence and honesty without complaints.
Hon. Basaliza advocates for the elderly years of getting pension to be reduced from 80 years to 60 yrs as it was before, such that more elders can benefit from this scheme.
He was then given another assignment in the Uganda Human Rights Commission and since he understands the challenges of the elderly and he's been advocating for their equality, fairness through the Commission.
However, he has since opted to return to the political field as a Member of Parliament for the elderly in Western Uganda come the 2021 elections, after securing the blessing of religious leaders and the elderly people in the region.
He told this website that; "Ecclesiastes Chapter 3 says that 'There is time for everything'. I have been watching issues unfolding and had excused myself from Elective positions, mainly basing on serving in other capacities other than politics. But I return to politics to create harmony and unity in the NRM Party, not to antagonize incumbents in those positions."
He added that; "Now that cabinet approved Representation of the Elderly, and Parliament approved it, I therefore declare that I will be vying for the position of Member of Parliament for the Elderly to represent Western Uganda as requested by my good people."
His back ground stems during UNLF /Fronasa, Uganda Patriotic Movement as founder member, NRA/NRM liberation struggle, although prior to that he was a professional teacher and later joined Parliament to represent Burahya County, Kabarole. But he voluntarily opted out of politics after consultation with H.E President and Commander in Chief.
During his days in the army, he attended the prestigious Kimaka Senior Command and Staff College in the 2nd intake after UPDF Generals like Elly Tumwine, Salim Saleh, Noble Mayombo, etc.
He was among the first contingent AMISOM Troops deployed to Somalia in 2007, under the Command of Gen. Levi Karuhanga, (RIP). After his tour of duty in Somalia he returned to Uganda and was appointed Chief of Pensions, Gratuity & Survivor Benefits in the UPDF.
One of his last assignments was documenting all Ex- service men ranging.
He wants to Link the Elderly to Operation Wealth Creation, Ministry Of Agriculture/NAADS Program such that they get some provisional support from Government.
Currently he is a farmer in fields of tea and coffee growing, although he is also involved in dairy farming, which he does on a four acre model farm.