Last year, Nassali Fiona, aged 31 was among a number of  for lesbian, gay, bisexual, and transgender (LGBT)in Uganda who were on the most wanted by security organs for her defense,participation and support for gay rights. In use since the 1990s, the term is in Kampala Metropolitan that were caught red handed in the forbidden act (homosexual).
As a big number of them were caught by the community vigilantes, to Nassali was a different story.
On a fateful day of 14th, December 2019, Nassali an insurance agent who doubled as a school shuttle chauffer who had covered her sexual orientation from her husband this time couldn't hide her sexual desires.
She was tempted to sneak in her friend Mina, after her husband had gone in for a business trip, they were doing regularly in the black of her husband.
This time, luck wasn't on her side, the husband found them red handed!
The husband of her children one Wilson (other names withheld), with no mercy had to report the shocking news to the Bweyogerere ward local council.
These were not hesitant, immediately, through the local chairperson's office, Nassali who was known (secretly with no knowledge of her husband) to be the ring leader was not to sleep at this ward again, a chasing letter was written.
A letter, Capital Times Uganda has managed to secure its openness, dated 15th December 2019 and signed by Patrick Kiberu, the local council chair-person reads.
Due to several warnings upon serious danger you bring to our younger generation without bothering to remedy because of inhuman cultural behavior (homosexual)
We therefore have come to an agreement unanimously to leave our ward.
Once we get you in our jurisdiction, you will be handed to police immediately for action.
Stay warned.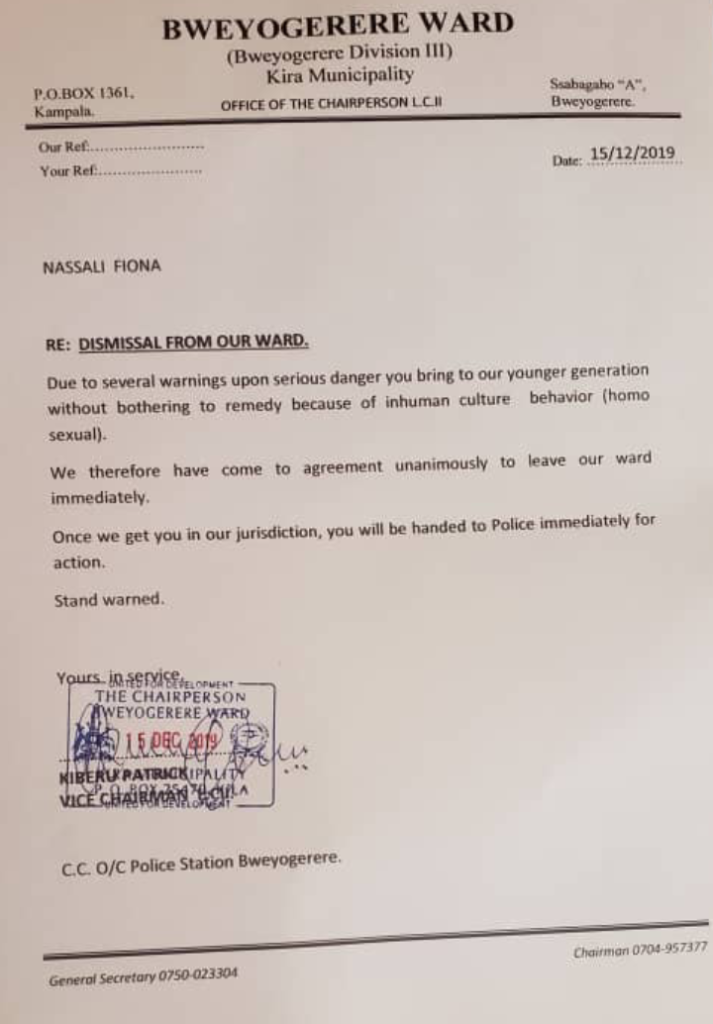 Nassali"s Dismissal letter from Bweyogerere
The local police station was also informed about the development of write off Nassali in their ward, the whereabouts of Mina are not known thought expected also to be on the run.
From that day, Nassali has never been seen again, even to her family members.
However, Capital Times Uganda has unmasked her whereabouts.
The nice looking energetic woman who failed to get a safe stay in a country of his own where homosexual is a taboo, seems to have sneaked to UK where she hopes to get a better and a safe stay regardless of her sexual orientation.
Nassali who is on the run from the crimes she committed her photo has been found on the Hoops and Loops facebook page, a Wales based LGBT organisation posing in a group photo with other colleagues.
Mr. Kiberu who signed the letter that was hurtling Nassali from his ward, not knowing that Nassali left for UK, when engaged him at his office in Bweyogerere, he said
"Fiona Nassali is not alone, actually we suspect that she and her partner Mina may have engaged in other younger girls in their devilish activities.
They don't deserve to be in any local community. Her behaviors are inhuman. Kiberu said.
The vice-chairperson of Bweyogerere came here and reported us the matter that Nassali a wife to Wilson and Mina have been chased away from the ward.
We noted the matter to our region command and they set up an intel to look for them.
However, the day the public will avail them to us, the legal charges are waiting for them. The local police officer in-charge of family affairs at Bweyogerere Police Post said.
She spoke all this with no knowledge, that Nassali is out of the country.
Nassali's family seems not welcoming back a devil, as homosexuals are usually referred in Uganda, in UK, where Nassali seems to have got a relief and eyeing for a permanent stay there, inclusiveness is everyone's right no matter the sexual orientation, race and religion among others.