Garry Paul Mayanja, one of the Forum for Democratic Change (FDC) party mobilizers who was forcibly disappeared alongside Justin Jjuuko by security officers in Lwengo district, on Saturday, 12 December 2020 has been released from detention at Special Investigations Unit-Kireka.
The duo were on an official FDC assignment of identifying and training polling agents in Kyazanga subcounty, Lwengo district when they were intercepted by unidentified security operatives who whisked them away, first to Mbirizi Police Station and later in an undisclosed military detention facility where they have been for the last ten days.
Deputy FDC Secretary General Harold Kaija through award-winning human rights lawyer Isaac Ssemakadde, filed a petition in the high court seeking an order of habeas corpus, directing  all Ugandan security agencies and their bosses to produce the two FDC stalwarts in court or release them unconditionally.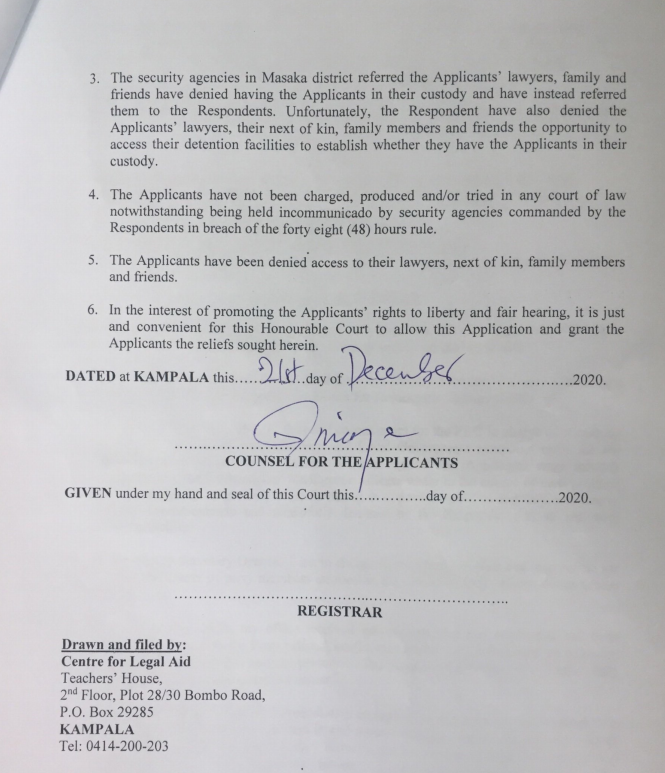 Notice of motion filed by centre for legal aid.
Due to much pressure from no-nonsense lawyer Ssemakadde, Garry Paul Mayinja was released on "state bond" last evening but his health condition is worrying as it is suspected he that he was tortured.
"Champion Jjuuko's comrade Garry Paul Mayanja has been released, but he's not in good physical shape. He was tortured in military custody and then dumped at SIU- Kireka for further processing. We're now worried about Jjuuko's fate", said Ssemakadde this afternoon upon filing the habeas corpus application.

In an affidavit filed in court, FDC Deputy Secretary General Harold Kaija says that FDC had been unaware of the detention facility where its mobilizers Juuko and Mayanja were held "incommunicado", and the party had so far been unable to extend to them welfare, legal and medical support.
"Police and the military are working jointly to undermine the legitimate FDC activities of identifying and training polling agents," he added.
Kaija said FDC demands restraint by the police, military and intelligence services regarding "interfering" with political activities of political parties.