The Uganda Electricity Transmission Company Limited has refuted claims that they will deliberately cut off power in most parts of the country on January 13 and 14 to deny Ugandans the chance of watching Televisions on election day.
In a statement issued by Umeme on January 10, the management stated this;
NOTICE ABOUT A FALSE STATEMENT PURPORTED TO BE ISSUED BY US COMMUNICATING LOAD-SHEDDING 

10th January 2021
Dear Esteemed Customers, Umeme has seen a false statement purported to be issued by us communicating load-shedding on 13th and 14th January 2021.
We notify the public to disregard that statement and treat it as fake.

Our commitment is to keep the lights on and there is no scheduled load-shedding on the said days.
We promise to keep you updated with key customer information on any developments through our known channels.
Management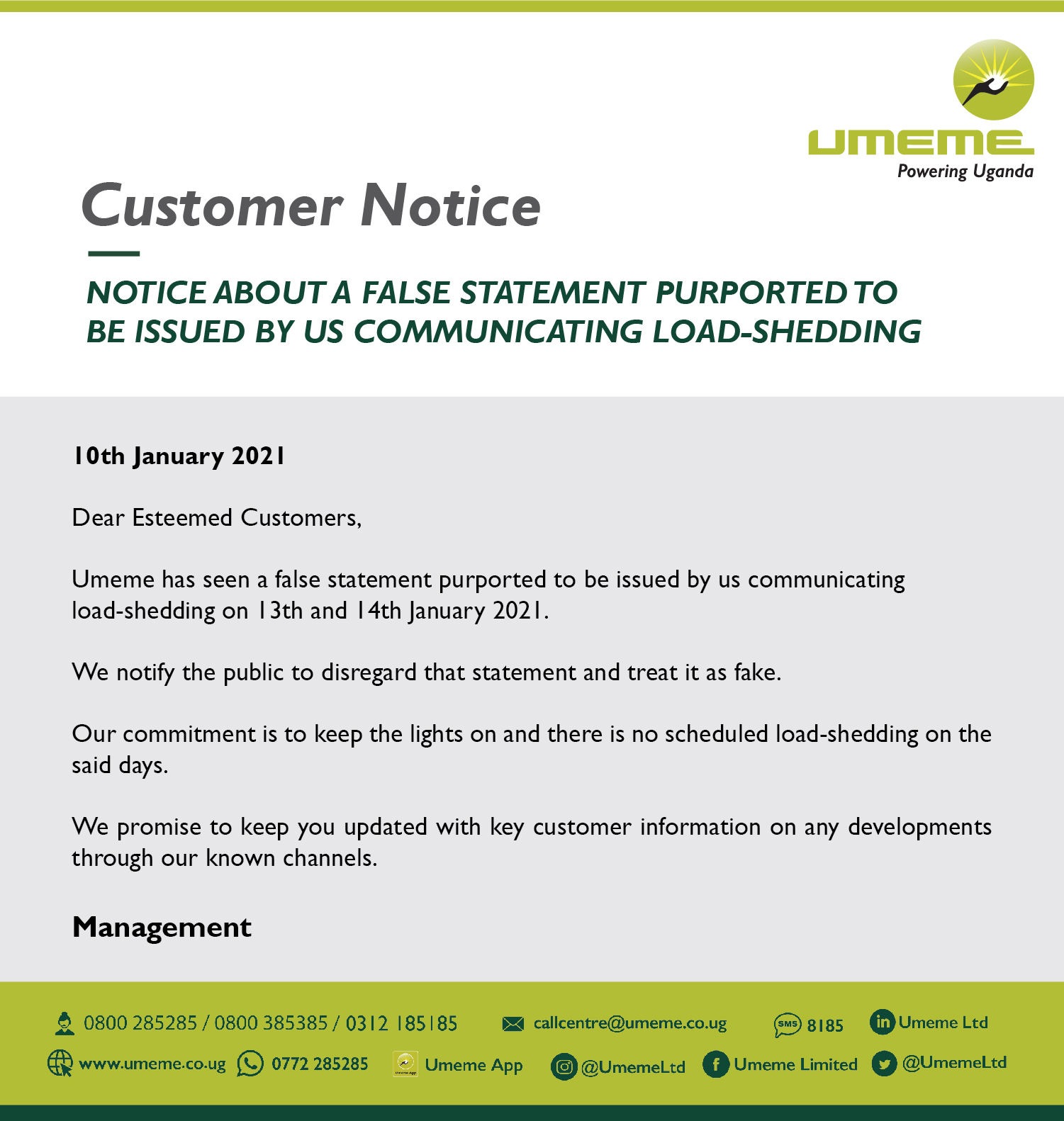 Meanwhile, Uganda's main power distribution utility Umeme has already tabled a $219 million (Shs813.2 billion budget) for 2021.
Of that, $119 million (Shs442.4 billion) will be for capital investments in the grid while $60m (Shs222.4bn) will cater for net operating costs.
The company says it will spend $2m (Shs6.6bn) on lease payments and the balance ($38m/Shs141.8bn) on an assortment of other items.
It will invest in the evacuation of Karuma and Acwa hydropower plants, on improving power supply and expand the network.
Additionally, the distributor will clear the backlog of 240,000 applications for connection, retrofit the 40,000 post-paid meters still in use.