Travelling as a family means going for the utmost comfort especially for the children, teens and adults. Sheltered under charming, traditional African, modern contemporary and furnished with rich natural fabrics, the rooms and cottages at Speke Resort are equipped with the latest modern technologies, complimentary high-speed internet for up to four devices and 24-hour services, for our guests' utmost convenience.
As you are reading this, gorgeous Commonwealth Speke Resort Munyonyo has sorted you with a lavish 'Girl's Slumber Party' to kill off your lockdown stress and COVID-19 related syndromes of boredom that will not only revive your pre-COVID happiness but also thrill your medulla cavities with crazy happiness.
With the Girl's Slumber Party, you can Book a Cottage at Ugx1,470,000 (One Million, Four Hundred Seventy Thousand) for four ladies and receive a night's accommodation in a cottage, 60-minute Swedish massage for 4 ladies, complimentary mini-facials in the cottage, private breakfast arrangement in the garden of the cottage Valid on Fridays to Sundays and Public Holidays up until 31. August 2021.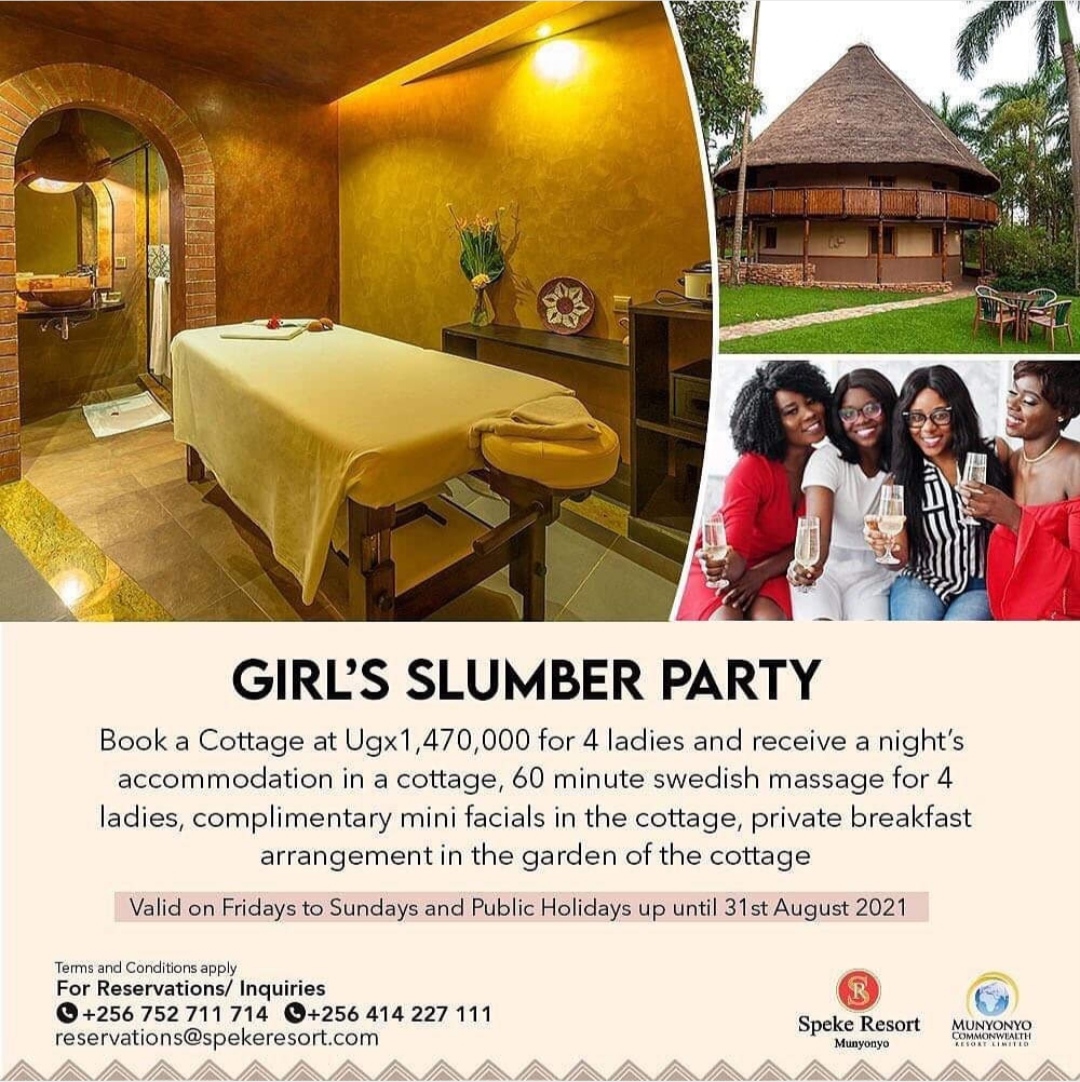 What's in the Girl's Slumber Party?
Slumber parties are a fun tradition and a rite of passage for growing up. Whether the occasion is summer fun, birthday party, holiday break, or socializing through an enrichment activity.
On top of the above, the two couples are given a thrilling 60 minutes Swedish massage, complimentary mini-facials, private breakfast arrangements in the garden of the cottage all the same price.

The resort offers the above using organic produce where possible their professional fitness team can carefully assess your health, fitness, and lifestyle to provide personalized programs and treatments.
TheSpy Uganda understands that the resort has a couple of massages that won't leave your body the same including; Swedish Massage, Deep Tissue Massage, Canole Oil Massage, Hot Stone Massage, Spa Double, Pregnancy Massage.
For reservations, please call them on +256 41 7 716 000 or visit their website at https://munyonyocommonwealth.com/
#VisitMunyonyo
#StaySafeUG