February, the world over is a month of love and Valentine's Day and it is here with us. But to get the best out of Valentine's Day, you need to plan ahead. This planning prepares you to give your lover the best experience there is that you can afford to offer.
In Kampala, Uganda's Oldest Speke Hotel have lined up an exquisite package that will not only give you a good time but reinvigorate your relationship with that special someone.

In its special package dubbed "Valentine's Special Package", Speke Hotel is offering guests luxury accommodation rates during this coupled with the ambiance and relaxation you need to make merry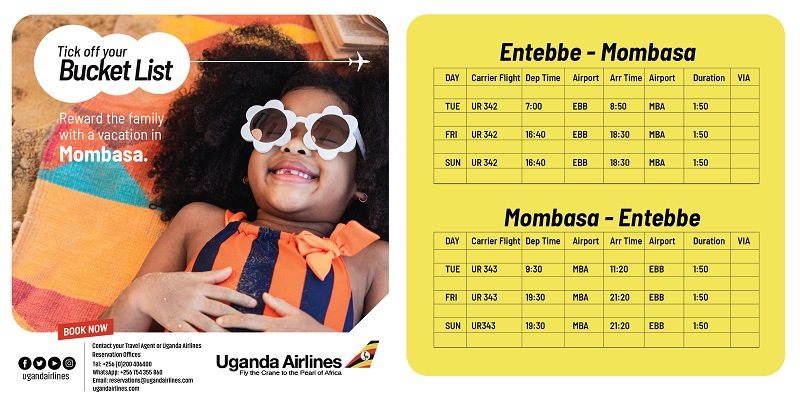 The staycation offer priced at just UGX 395,000 per couple includes a sumptuous three course meal with a glass of champagne, and a tongue-waggling dinner and a late checkout by 15:00 hrs of the following day. This will satisfy your taste buds and leave you wanting to stay more at the hotel.
The hotel revealed that these packages have been made to suite the times when people cannot travel to far places and are not financially stable therefore affordable and it is valid daily from 7 February to 14 February 2022.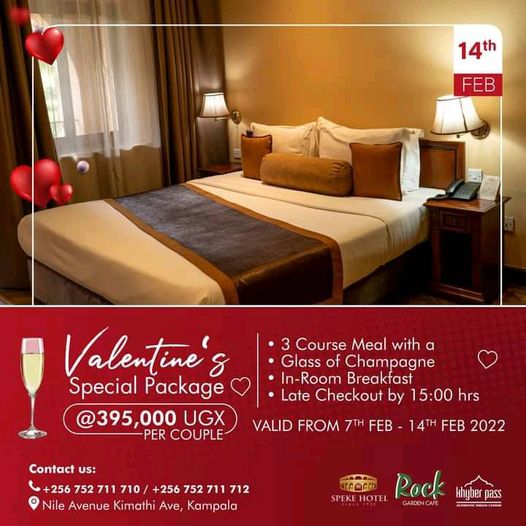 Situated at the heart of Kampala City, just 20 minutes drive from Entebbe International Airport, Speke Hotel has over the years defined the kind of which couches the meaning of comfort in the most luxurious of terms. The hotel has 50 en-suite rooms and all the modern luxury hotel facilities that one would expect in a Five Star hotel.
Speke is warmly decorated, low-key rooms offer free Wi-Fi, flat-screen TVs, and minibars, as well as tea and coffee making facilities.
The hotel also has several themed restaurants (including Italian and Indian) and one of the best cocktail bars in Uganda. Besides serving choice beverages, the hotel also plays a variety of offerings in music, dance, and distractions of a fun-filled nature that you would not afford to miss.
"Rock Garden Cafe offers a daily à la carte menu of both Continental and African dishes while Khyber Pass Restaurant focuses on Indian cuisine. There is also a pizzeria and a well-stocked bar. Evening entertainment is offered on selected days," said a staff we found busy serving stress-free clients.
The hotel is under Speke Group of Hotels a wholly-owned subsidiary of the Ruparelia Group. For reservations one can reach them on +256 752 711 710 / +256 752 711718. You can also well visit Speke Hotel's website at www.spekehotel.com to get more information and place your booking online.