Kampala city lawyer Male Kiwanuka Mabirizi claims that National Unity Platform (NUP) president Kyagulanyi Robert Ssentamu has no valid A-Levels, thus cannot stand for president.
According to Mabirizi, Kyagulanyi Robert Ssentamu also known as Bobi Wine was registered as Kyagulanyi Ssentamu R in S4 in 1996 at Kitante Hill Secondary School, while in 1998 he sat s.6 as Kyagulanyi Robert Ssentamu at Kololo Secondary School which is a different name of a different candidate.
"It is possible that Mr Kyagulanyi hired a machinery who may have sat for him, you cannot use one year to finish A-Level before receiving results for 'O' level," says Mr Mabirizi.

"Fellow citizens, article 102(1) (c) of the Constitution states that " A person is qualified for election as president if that person-has completed a minimum formal education of Advanced Level standard", says Counsel Mabirizi.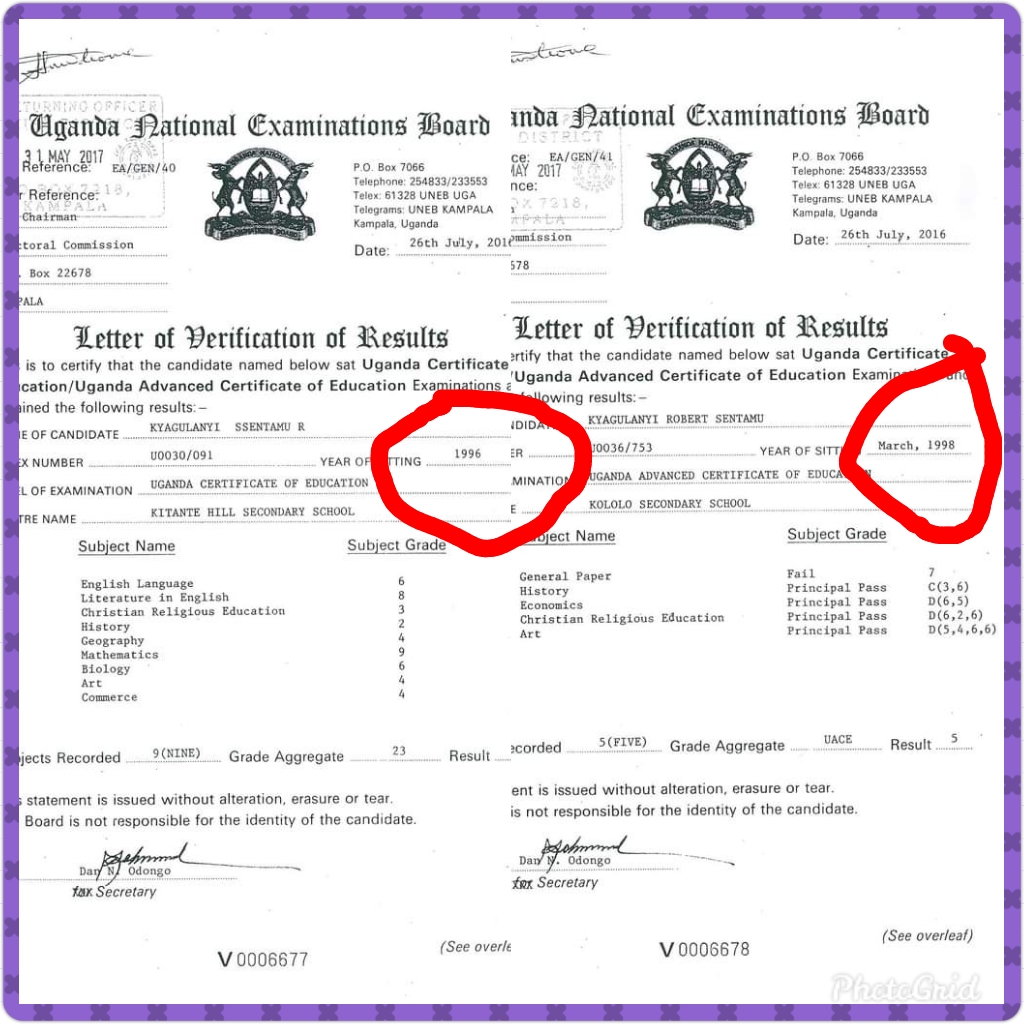 Mr Mabirizi has further revealed that he is going to write to Electoral Commission (EC) to block Hon Kyagulanyi Robert Ssentamu's nomination on any political office that requires educational qualifications.
"In addition to the criminal charges which will soon be instituted against Kyagulanyi, I will soon petition the chairperson Electoral Commission so that Kyagulanyi's presidential nomination is caveated as I dig more into the authenticity of his purported certified academic documents", Mr Mabirizi said.

" The elite class of this country, where I belong, has a duty to scrutinize every individual who aspires to occupy the number one office of this country and this is why Kyagulanyi has to be blocked to act as an example to every other intending imposter that joining a presidential race is not a simple walk in the game park, but a war of academic performance and integrity", he explained.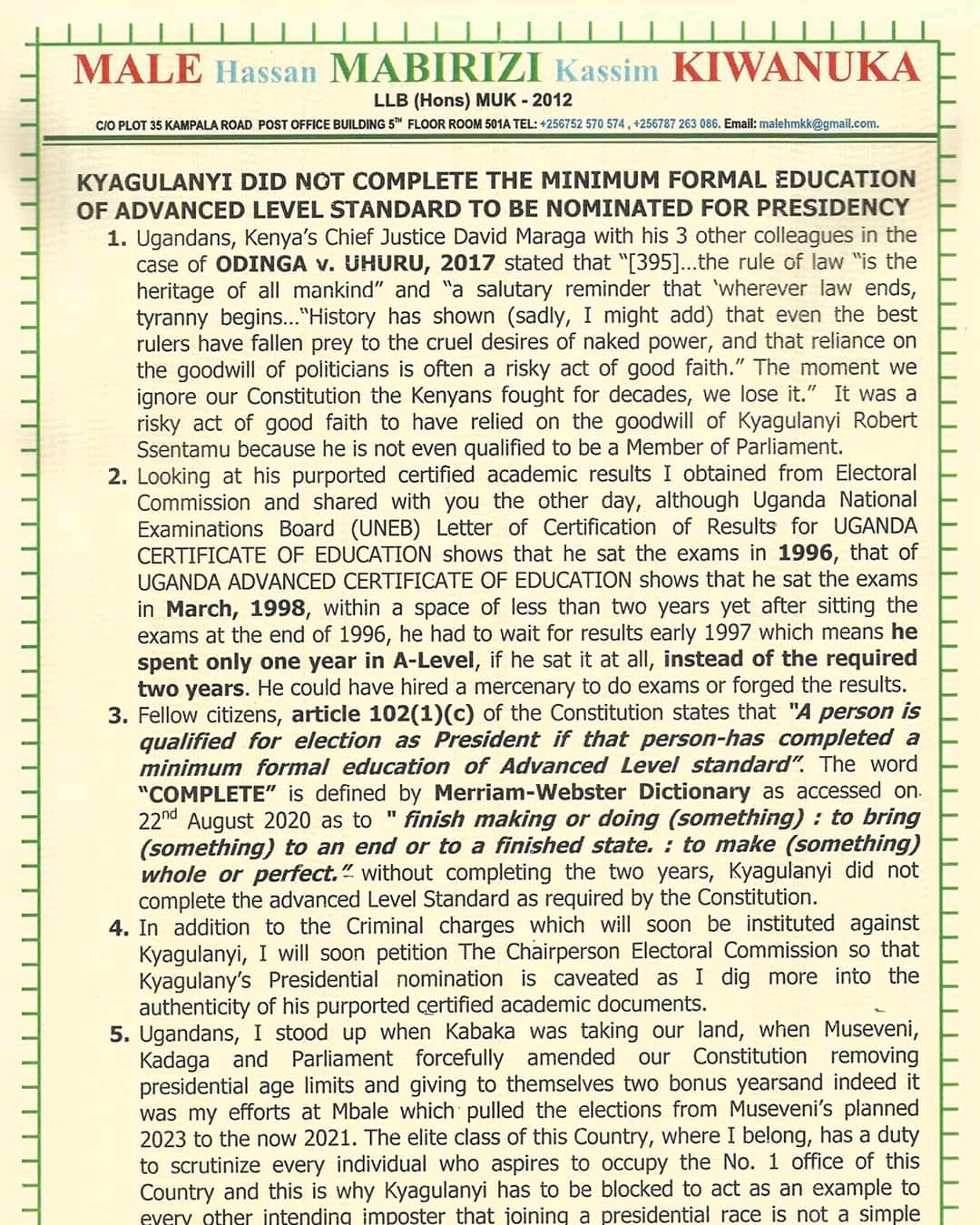 Efforts to get a comment from Bobi Wine or National Unity Platform (NUP) spokesperson Joel Ssenyonyi were futile.
Commenting on the matter last week, Ssenyonyi described Mabirizi as a busy body suffering from what to do.
"I think Mabirizi is a busy body and suffering from what to do and it is okay for him to keep engaging. There are going to be many Mabirizis but we choose not to be bothered by them and we major on the majors," Ssenyonyi said.
The law
Under the law, whoever gives to any person employed in the public service any information which he or she knows or believes to be false commits an offence.
While section 76(b) of the Registration of Person Act, 2015 states that any person who gives false information or makes a false statement when providing information for an entry or obtaining the issue or re-use of a national identification card is liable to imprisonment for five years.
How the battle started  
On August 10, Mabirizi petitioned EC seeking to be availed with Bobi Wine's academic credential detail.
Mabirizi argued that he wanted to satisfy his doubts that he possesses the minimum requisite papers for the office.
"Bobi Wine's academic details available at the parliament website indicate that he was born in 1982 and sat A-level in 1998. This means that if he was born in 1982, he sat A-level at 16-years, O-level at 13-years and PLE at 9-years and started his educational journey at 2-years only which is peculiar," Mabirizi argues.
This, according to Mabirizi created doubt about his academic credentials and could only be satisfied by looking at the academic documents tendered to EC at nomination in the 2017 by-election which brought him to parliament.
On August 14, EC directed Mabirizi to pay sh20, 000 to Uganda Revenue Authority (URA) in order to be availed with Bobi Wine's academic documents.
On August 18, Mabirizi paid the money and was consequently availed with the documents.
Who is Mabirizi?  
Mabirizi was born in 1987 to Mohammed Mutumba and the late Mastula Ndwaddewazibwa in Mukono district.
He possesses a bachelor's degree in law from Makerere University. He sat his A-level from Kawempe Muslim secondary school and his topped his year.
A Muganda from the Kkobe (yam) clan, Mabirizi became famous when he dragged his own King Ronald Muwenda Mutebi II to court for what he described as illegal collection of land fess known as Busulu.
The matter is now pending decision at the Supreme Court, a highest court on the land.
He was also among the team which challenged the amendment of the presidential Age limit clauses (102b) in the Constitution
Article 102 (b) of the constitution prevented anyone above 75 years from standing for president.