The woes surrounding West Ankole diocese don't cease to be over , this comes after Public Relations officer Zadock Amanyisa resigning over mysterious circumstances surrounding the diocese top leaders.
It has been established that Amanyisa resigned due to administrative hiccups and divisions which have engulfed WAD.
Recently,a group of Bushenyi Christians accused the Church ministers of dividing Christians along political lines.

The Christians led by Zeddy Kwikiriza and Welden Taremwa accused Bishop Johnson Twinomujuni, Wilson Bashasha head of with ,Church ministers led by the West Ankole Dean, Wilson  Tumuhirwe  and John Mark of Kaburegye Church of Uganda in Ishaka of turning Church into a political field.
The named Church leaders we're accused using their positions to campaign for different candidates in the ongoing national campaigns especially on NRM party, which angered a section of Christians in West Ankole Diocese.
With all this whirlwind in the church, forced Amanyisa to resign.

Amanyisa's Resignation
Greetings to everyone
I thank God for keeping us alive.
My resignation from the position of Information and Communications Officer, West Ankole Diocese is true and it shouldn't be a point of speculation.
The reasons for my resignation are in-house matters and I prefer not to make them public for the good of Christ's Church. As Christians, we have the duty to keep the Church united.
I will remain an active Christian of West Ankole Diocese, committed to my obligations and responsibilities.
I thank God for everything that he has enabled me to accomplish. I also my Lord Bishop, Rt. Rev. Johnson Twinomujuni for giving me the opportunity to serve God in the capacity as Information and Communications Officer and the entire WAD Communion for the support.
I am forever grateful indebted.
Best regards to you all, let's keep united for the good of Christ's Church.
God be with us all.
It is said that Amanyisa is going back to Daily monitor where he was before he joined WAD .
He is a graduate of Mass Communication from Uganda Christian University, Bishop Barham University College Kabale.
He graduated in 2014 and joined daily monitor greater Bushenyi and within a short time he excelled in the field where West Ankole diocese picked interest in him.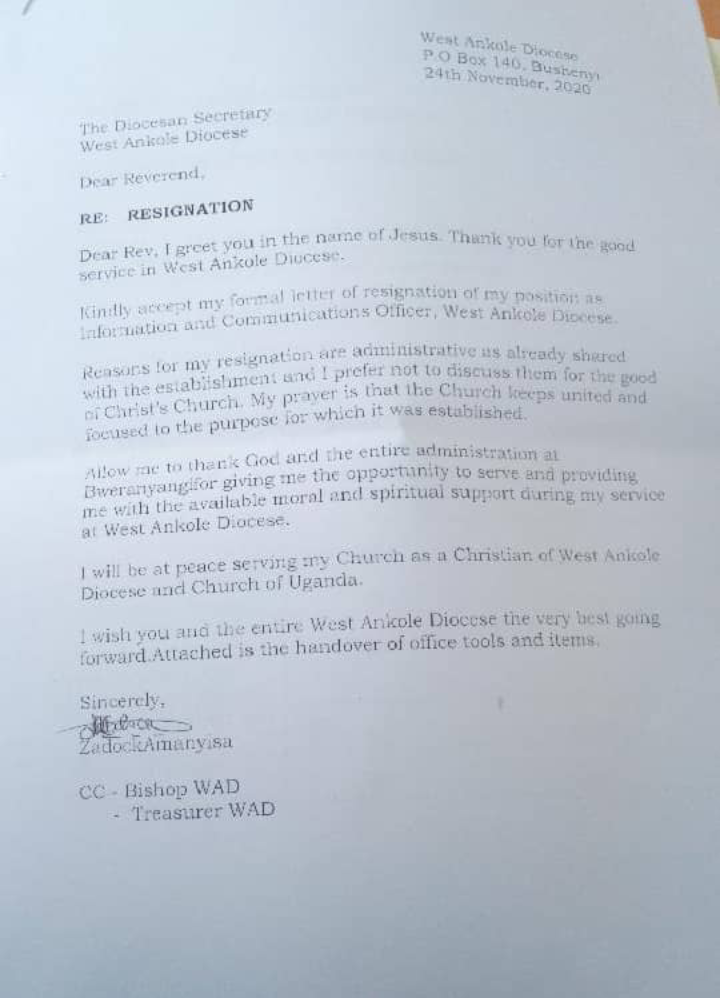 Resignation letter