Police and military on Thursday evening blocked National Unity Platform 'NUP' Presidential candidate Robert Kyagulanyi Ssentamu alias Bobiwine from traveling to Kyankwanzi via Hoima because the road it is under construction.
Kyagulanyi sleeping in the car
Bobiwine revealed that they  decided to  spend the night in Migera on the roadside because police under DPC Patience Namara and the OC, Byaruhanga  ordered all hotels in the area not to host them.
"We're now stuck and spending the night on the roadside. The DPC is telling us she will only allow us to stay in her district until 6:00 a.m in the morning.
You can imagine being treated like this in our own country", he said.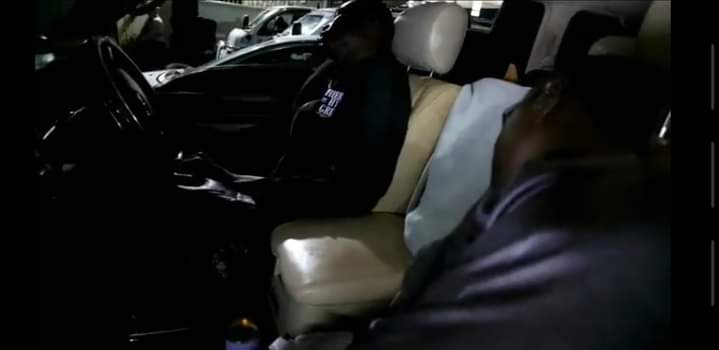 Bobi alongside Nubian Li resting in the middle of the night 

Joel Ssenyonyi NUP's spokesperson confirmed the incident hitting that Ugandan security agencies should desist from abusing human rights.
" I have just spoken to our Presidential Candidate Hon Kyagulanyi, he is spending the night in his car on the street in Migera because police instructed hotels around not to host him and the team. Efforts to proceed and get a hotel elsewhere have been hampered by Kyankwanzi DPC Patience Namara. This persecution won't deter us", he said.