After returning the Controversial Shs 20M to Bank Of Uganda, hearty Sheema District Woman Member Of Parliament Jacklet Atuhaire Rwabukurukuru has donated one million shillings to Kitagata Hospital to help on the ongoing installation of the new theatre operation table.
The legislator made a donation after an outcry from the hospital medical supretendant officer Dr Kabwiishwa Johnson and the chairman of the hospital Mr Johnson Byarabaaha requesting the government of Uganda through the ministry of health to support their theatre.
"It's true, i returned the controversial Shs20m and as I told you earlier, I have been using my money and I will continue using it to give a hand to my people.
When asked about the reaction of some people after returning the controversial Shs20m, the Legislator said of course not each decision made pleases all. However she's ready to continue supporting her people as she's been doing.
"Shs20m is not the end of life, of course some people weren't happy but it wasn't healthy money. I promised to continue supporting Sheema developmental projects. This is a start, I will add on that donation. I can't keep quiet seeing our mothers loosing lives while giving birth. Together, we must put our theatre on board," Hon. Jacklet Said
Dr Kabwiishwa Johnson the Kitagata hospital medical superintendent officer said, the theatre operation table worth 20M the hospital currently have, was bought in 1969 when the hospital was put in place.
He added that at this time, it's too weak to support the lives of pregnant mothers and healthy workers in Kitagata operate expecting mothers at stake and on God's mercy.
Kabwiishwa further explained that to know that the health of expecting mothers who need operation is at risky, the hospital does not only lack a theatre operation table but also other essential equipments like an Oxgyen plant and others and that the ministry of health has kept a deaf ear on the hospital's request.
Sheema district is well known as a model district, other Sheema elites have also come out and formed a WhatsApp fundraising drive towards the installation of the new theatre operation table.
These say, they can't wait for the government to give them everything, so far over 200  Sheema people have already pledged to contribute.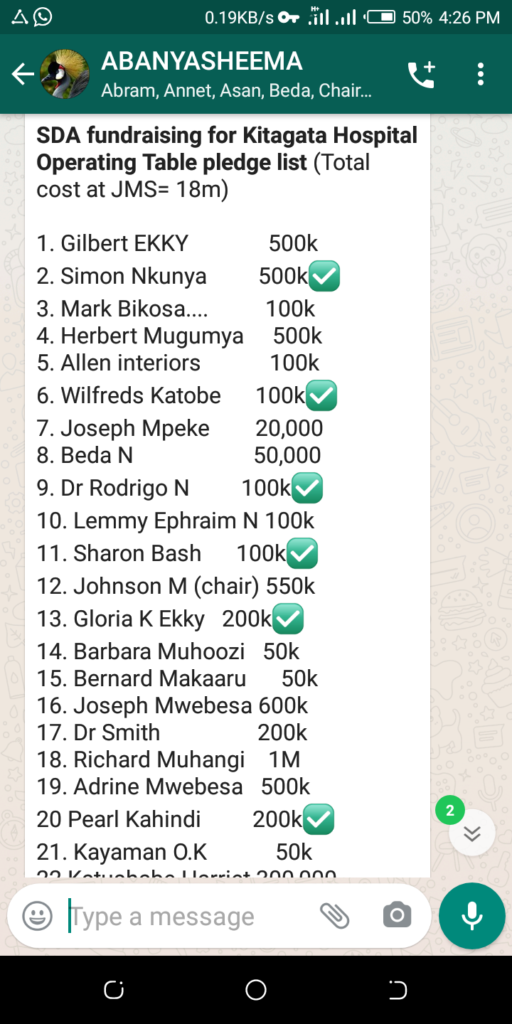 Kitagata Hospital is one of the biggest and a main hospital in Sheema District.